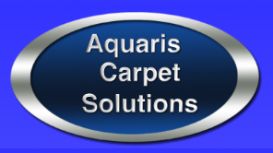 Your carpets represent a significant investment in your home. With this in mind, thorough cleaning and care can not only give you the best feel and appearance for your carpet, it can protect your investment for years to come.
Aquaris Carpet Solutions take great pride using the best techniques and various machines to get you the best possible result. Prior to beginning a job, we will go through with you the entire process, answering any questions you might have and discuss possible results for any trouble areas. We carry our assessments before and after and show you the results or problems areas.
We recommend the steam cleaning process, also known as hot water extraction, as the preferred method for cleaning your carpets. We control the temperature of our water, so we can also disinfect and sanitize soiled carpet, creating a more hygienic, cleaner and healthier environment. Our carpet cleaning products are green, non-toxic and biodegradable where possible.
---
Reviews and Ratings
A first class service in all respect, happy to provide references if requested & recommend to friends & family.
They came exactly at the time they said they would & did a very professional job. Exactly at the price they quoted. I would recommend them.