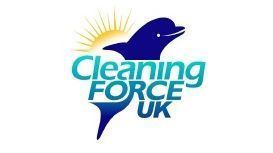 Based in Birmingham, Cleaning Force UK are widely considered to be the region's leading commercial and domestic carpet and upholstery cleaners.
As a result of years of experience, we offer a full range of industry recommended cleaning systems and our fully trained operatives will select the one most suitable for your needs. Cleaning Force UK also specialise in curtain cleaning and hard floor cleaning.

---
Business Verification Status
Company Type: Limited Company
Services

Carpets are a major purchase, so it's important to look after them. Periodic expert carpet cleaning will rejuvenate your carpets and avoid expensive replacement costs. Whether at home or work, your carpets say a lot about the standards you set and nobody wants a dirty carpet sending out the wrong message to visitors.
It isn't just the dust, grime and grit that get walked in to the carpet pile, but also mites, bacteria and chemicals. These all contribute to erode the carpet fibres which over time damages the pile producing a shabby appearance and reduces the useful life of the carpet. Vacuuming alone is not enough.
Our state-of -the- art, low moisture carpet cleaning system is industry recommended for all carpet types. Because it uses much less water, carpets can be cleaned more frequently with no risk of shrinking or unpleasant odours – and, depending on carpet type, can be dry in as little as 30 minutes!
Needless to say, this is great news for home owners and hotel managers alike. No more waiting for hours for your carpets to dry – you are back in business in no time.

With over 10 years experience, Cleaning Force UK have an array of upholstery cleaning systems, and there will be one ideally suited to your needs. We are the ultimate upholstery cleaners. Whether your upholstery is velour, damask, chenille, hessian or leather, we have the expertise to clean and rejuvenate your furniture.
Water Extraction:
For most fabrics the most effective upholstery cleaning system is water extraction. A cleaning solution is first sprayed onto the surface to be cleaned, worked into the fabric by hand, and left for a few minutes to take effect. A second solution is then applied which combines to loosen any soiling. The fabric is then extracted by the use of a powerful vacuum. The result – much cleaner upholstery. We use this system widely in both commercial and domestic environments, especially hotels where upholstery in reception areas gets considerable use leading to heavy soiling, and restaurants where ding chairs need frequent cleaning due to food spillage.
Steam Cleaning:
This method of upholstery cleaning is similar to water extraction, except high temperature steam is also applied. This helps to sanitise the fabric and is therefore popular with care homes & and surgeries. Steam cleaning is also used to sanitise mattresses in conjunction with an anti bacterial cleaning solution.
And more!
Reviews and Ratings
Used Cleaning Force a few times now. They are brilliant. My mats are brought back clean and fresh. Quick, efficient, friendly and very reasonably priced.